Last week I had the amazing privilege of attending Los Angeles Fashion Week at Maker City LA. There were so many lovely shows, however only a few stood out in my mind as having clothes I would kill to wear every day. One collection I was really excited about seeing was Stella Proseyn by Debbie Talanian. The collection featured so many of my favorite trends and elements of the moment: metallic, sheer tops, water color print, and a modern minimalist aesthetic. So many of the pieces were incredibly versatile. For example, the metallic sleeveless top could be worn casually with a pair of navy jeans or as it was shown on the runway; dressed up with a fitted skirt.
After the show I even got to meet Debbie and exchange information. She was nice enough to answer a few questions I had. Be sure to peep my interview with her below.
Follow Stella Proseyn on instagram
@stellaproseyn
!
Noosh: How long have you been designing and what made you want to be a designer?
Debbie: I started

S

tella

P

roseyn two years ago, after working as an assistant to another designer for a few years. Fashion has long been a fascination, from my early childhood through today. I love the transformative power of dressing, the way clothing can help you embody the traits and attitudes you wish to project. It's a silent way of saying who you are.
N: I loved the use of metallics, mesh and watercolor print. What was the inspiration behind this collection?
D: All

S

tella

P

roseyn collections tend toward a streamlined, minimal aesthetic. We like to let fabrics – whatever we're drawn to in the early design stages of each season – influence our decisions about shape and silhouette. For Spring 2015 we embraced reflected light, realized in the sheen of metallic threads and foil. We also incorporated a diffused, watery print, a cotton mesh and a highly textured rayon for their properties of lightness and movement.
D: I appreciate art and design in all forms, my favorite daily enjoyments include architecture, film, photography, music, painting, landscapes, food and, of course, fashion. I find that being aware of anything done really well informs my design process continually.
D: There is a range of content is this season's textiles, included are silk, Lurex, linen, foil, cotton and rayon.
D: Stella Proseyn is available at Myrtle, Undesigned, Weltenbuerger and CAFAM, all in Los Angeles. We are coming soon to Riley & Coco.
D: Favorites are hard, but I'll focus on a few Spring 2015 pieces I think are exceptional: the Char Dress in foiled linen, the Cara Jacket in anthracite/gunmetal metallic and the Addie Skirt in textured cotton-rayon. These pieces encompass a range of cuts but maintain the clean lines and ease of wear that

S

tella

P

roseyn does so well.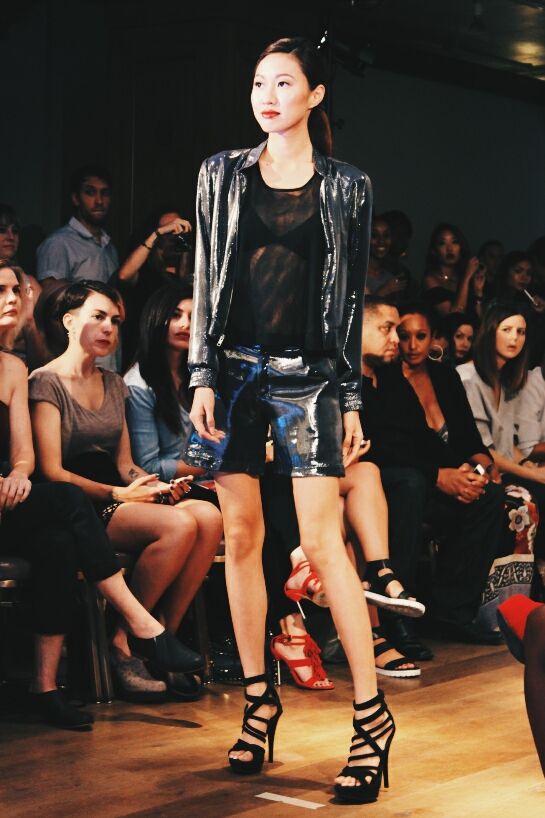 (photo by Ray Gene of Strait Laced Blog)
(photo by Ray Gene of Strait Laced Blog)
(photo by Ray Gene of Strait Laced Blog)